Zaffa performances for weddings and events are an authentic and traditional forms of Arabic dance, are provided by our group of Arabic dancers for weddings in Dubai, Abu Dhabi and the United Kingdom.We provide a Zaffa and Dabka performance that is highly specialized and authentic, and a team of dancers uses their dance training and talents to add a spark to your special day or event.
Because of their exceptional personalities and the passion they have for what they do, the members of the entertainment team, which includes musicians and dancers, ensure that every event will have a lively and exciting atmosphere.
Each member of our entertainment team has hand-made costumes to match the requested event, and they are able to accommodate Egyptian Zaffa Bands, Palestinian and Jordanian Zaffa Bands, Aradah Bands from Syria, and Dabke Bands from Lebanon.
Zaffa in its traditional pure artistic form: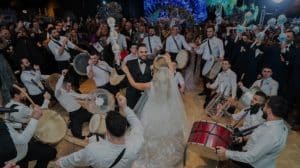 We specialize in providing authentic Middle Eastern and Arabic entertainment. The Zaffa is the traditional wedding march in Arab culture. This ancient form of dance incorporates props such as drums, bagpipes, horns, belly dancers, and swords.
What the group has to offer:
Lebanese Zaffa
Jordanian Zaffa
Syrian Zaffa / Aradah
Book now or send your inquiry via email or WhatsApp:
+971 50 541 7318
.