Ramadan
Acrobatics
Ramadan Entertainment Dubai
Bella Entertainment is a renowned entertainment company that has been operating in Dubai for several years. This year, the company is proud to offer a range of entertainment services for the upcoming month of Ramadan. As the holy month approaches, the demand for high-quality entertainment services is expected to rise, and Bella Entertainment is ready to meet this demand with its impressive array of offerings.
Bella Entertainment is offering a variety of Ramadan-themed entertainment services, including traditional musicians and dance performances, Ramadan-themed lighting installations, and stunning stage and set designs. The company's professional performers are highly skilled in a range of traditional dance styles, including tanoura, dabke, and zaffa, and are sure to impress audiences of all ages.
Arabic Band
Arabic Band for ramadan 4 people with singer, oud, violinist and qanun player, we can add more musicians to hire, just contact us to customize our band for your needs.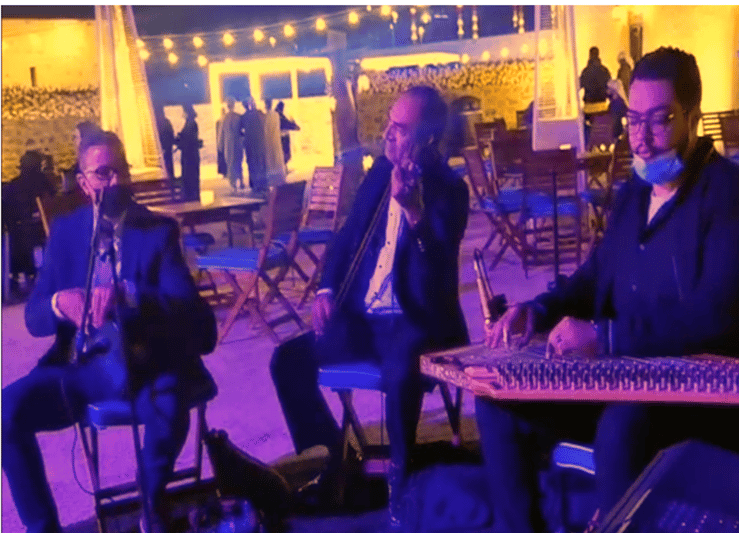 Arabic Oud
Leader for Arabic band and music teacher Khaled played more
than 13 years in most of the Emirates hotels in residencies as well
as festivals inside and outside the country and participated in
many major national events in the Emirates and abroad.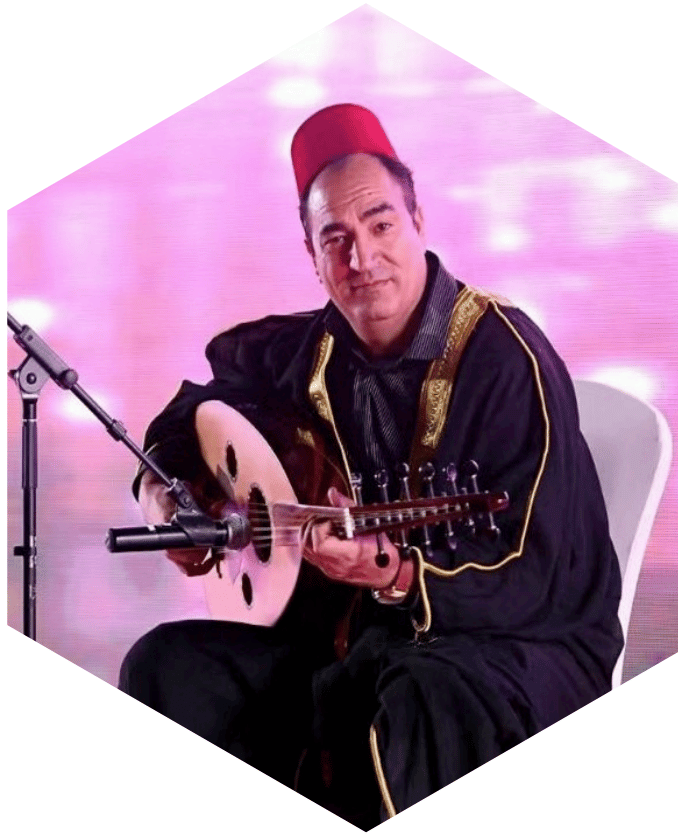 Arabic Violin
He is a wonderfully talented Violinist who played for more than 13 years in the UAE. His repertoire encompasses everything from famous classical music to popular songs, well loved Arabic classics to inspired improvisation in an Arabic style over backing track. While his playing is warm and expressive, so is his personality. He is happy to wander through the guests using his natural charm to draw spectators closer.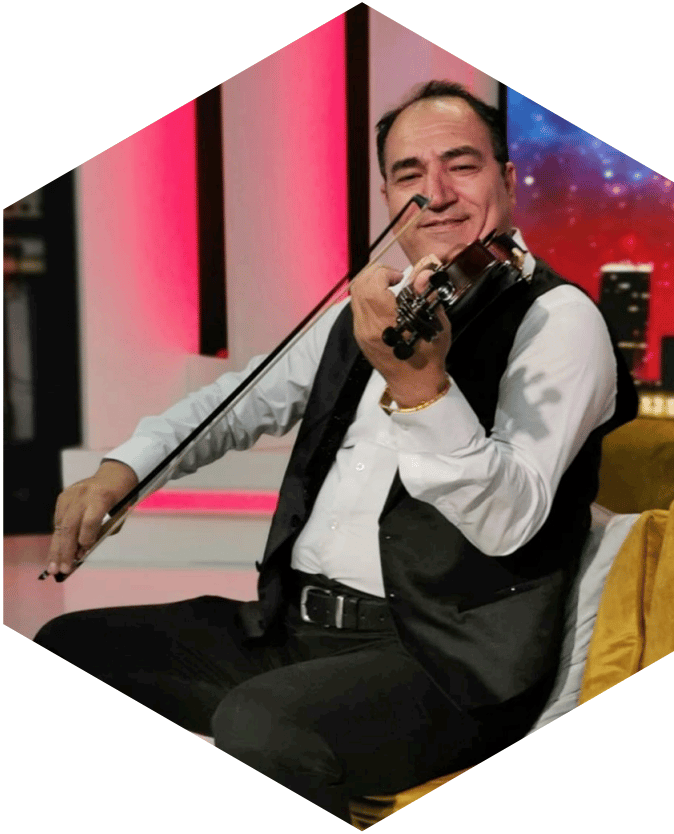 Arabic Qanun
The Qanoon, was and still is, at the forefront of the rich heritage of Arabic musical instruments and is often regarded as a requisite to other Arabic musical instruments and the center point of the orchestra, and when played in an orchestra or ensemble it sweeps up all the other instruments and leads them on, which is very similar to the importance of piano in the west, which is considered as an indispensable instruments in any orchestra.

This solo performance will dazzle the audience and ensure that spectators stop to listen to these magic tunes.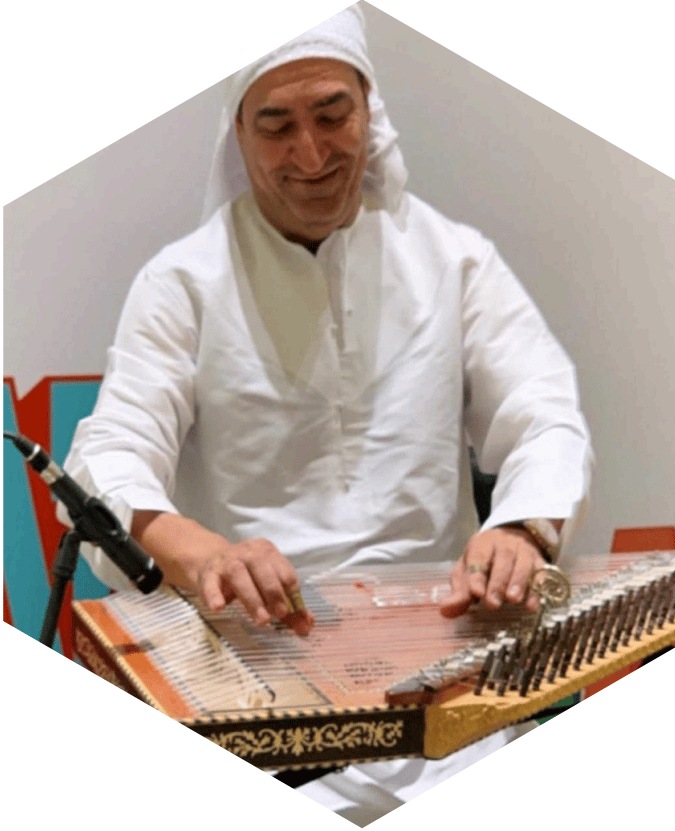 Arabic Oud &
Violin
Amazing emotional Middle Eastern, Mediterranean, and
North African solo and ensemble music, Acoustic and Cinematic, featuring Oud and Violin duo performance.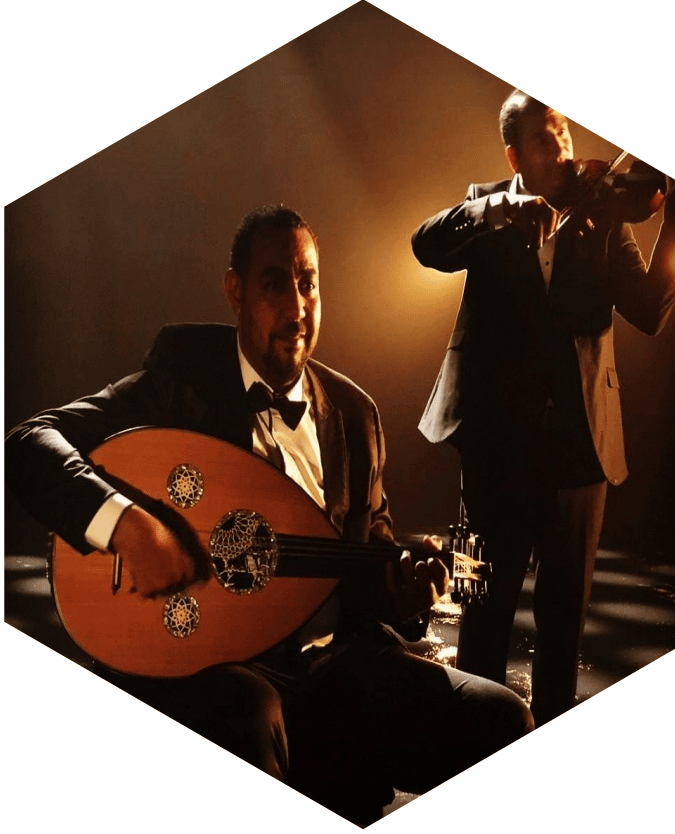 Ayallah Dancer
Generally known as the 'stick dance', this traditional fascinating UAE folk dance is accompanied by drumming and performed by two rows of dancers facing one another. Dancers are positioned close together in rows, signifying the unity and co-operation amongst tribal people. Although it is difficult to determine the date its inception between Arab tribes it is believed that Al Ayallah Dance was performed mainly after victory in war/battle and was carried out by members of the victorious tribe. We can provide also aladin and emirati mascots!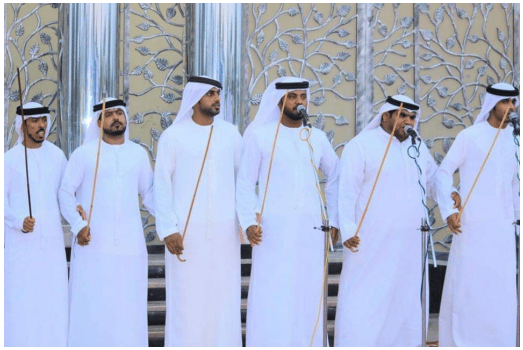 Razef Dancers
This upbeat dance was traditionally performed to celebrate good events.
It is one of the most important types of arts Badia. And is a manifestation of the bully and personal power and prestige. It also represents a sign of Arabic equestrian, as it is the art of special men and performance devoid of any element of Women, where two rows of standing men at least the number of each, usually, five of the men.
In comparison to the Ayallah dancers, the Razef rhythm is much faster and might sound "less coordinated" to the western ear. Nevertheless it is a performance that certainly draws attention to the artists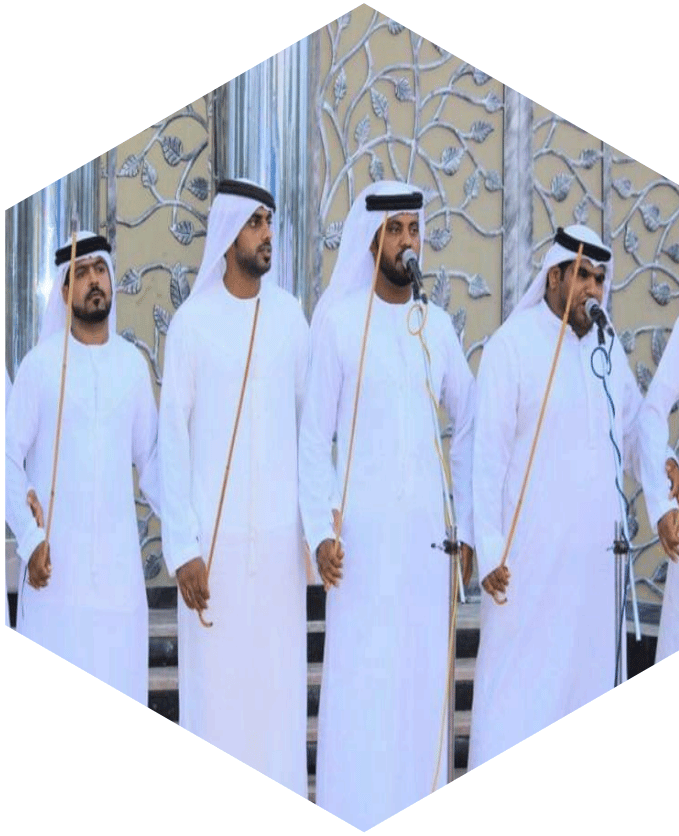 Henna Painting
Henna (Arabic: حن َِّاء ( is a dye prepared from the plant Lawsonia inermis, also known as hina, the henna tree, the mignonette tree, and the Egyptian privet, the sole species of the genus Lawsonia. Henna has been used to adorn young women's bodies as part of social and holiday celebrations since the late Bronze Age in the eastern Mediterranean. In Egypt, Henna is an Ancient tradition practised among women on many occasions.
The art of applying henna to the hands and feet is known as Mehndi, and is traditionally used for celebrations and rites of passage. Every culture and region of the world uses henna tattoos in its own unique way. For Hindu weddings, henna is painted on the bride to symbolize joy, beauty, spiritual awakening and offering, while Moroccans often paint doors with henna to bring prosperity and chase away evil. Depending on where you get henna tattoos, they will look different. Indian tattoos feature fine lines and floral patterns, while Arabic henna designs tend to be larger in scale and African henna patterns are more bold and geometric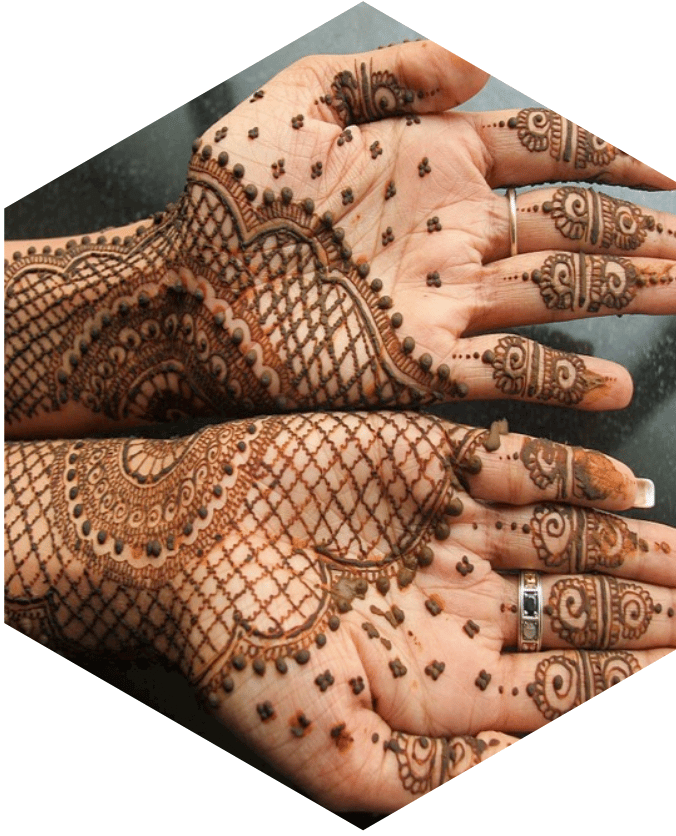 Falcon Display
A symbol of national pride and heritage the falcon embodies the true spirit of the UAE. The falcon display is a demonstration of the birds' grace and beauty and also the perfect opportunity for visitors to have their photograph taken alongside these majestic creatures.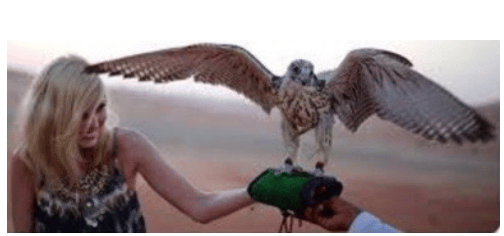 Kids Arts & Crafts
Super heroes, clowns, tigers, turtles or even the famous F1 or Ferrari logo, kids will love feeling part of the atmosphere with these creative face painting offers.
In a designated area supervised by craft-enthusiasts, children will be let loose on creating all sorts of F1 paraphernalia, such as colouring in, flag-making and more as well as UAE-themed items.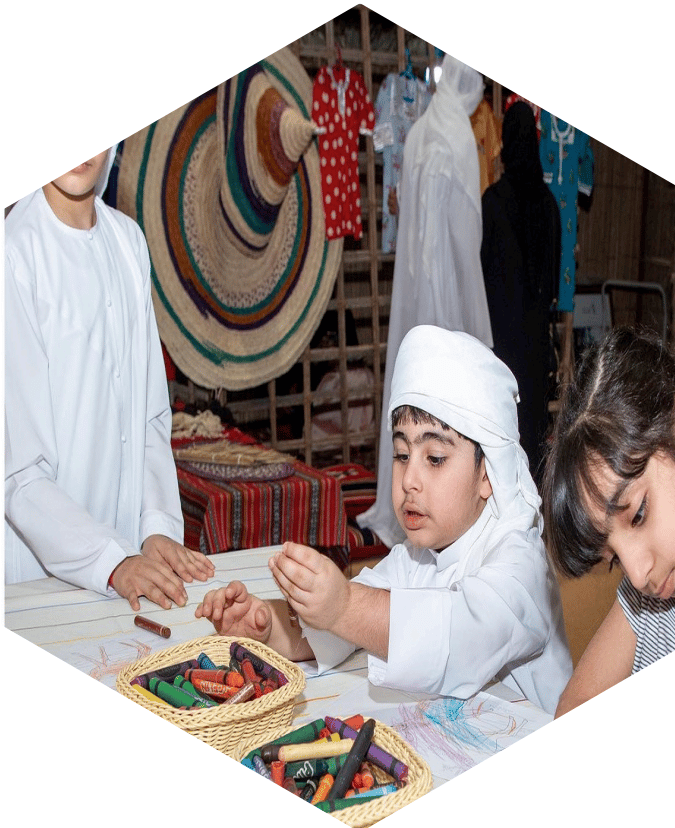 Lugaimat Serving
Lugaimat is a popular traditional Emirati dessert that is typically served during Ramadan or other special occasions. Lugaimat is made by mixing flour, milk, sugar, yeast, and saffron, and then frying small balls of dough until they are golden brown. The fried balls are then drizzled with sweet syrup, usually made from date molasses or honey, and sometimes sprinkled with sesame seeds.
Lugaimat serving is a service that is commonly offered at events and gatherings in the United Arab Emirates, where the dessert is served fresh and hot. Lugaimat serving providers use special equipment to fry the dough balls on site, creating a unique and immersive experience for guests. Some Lugaimat serving providers offer variations on the classic recipe, such as adding different flavors to the dough or using different types of syrup. Lugaimat serving is a delicious and popular way to experience the rich cultural heritage of the UAE.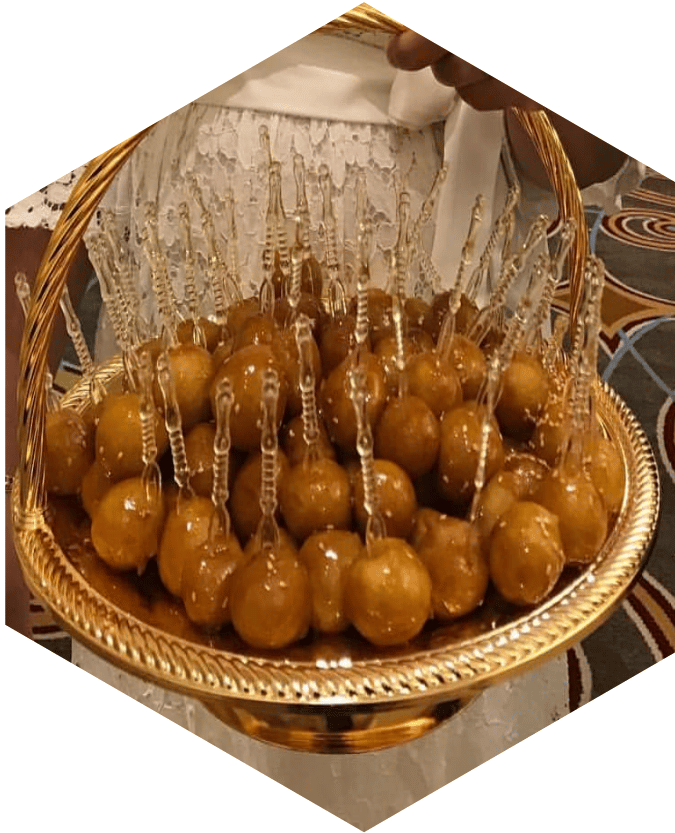 Story Teller
Arabic storytelling is an ancient tradition that has been passed down through generations, and it continues to be an important part of Arab culture. Arabic storyteller service providers offer a range of services that include live storytelling performances for events, schools, and community gatherings. They use a variety of storytelling techniques, such as oral storytelling, puppetry, and music, to captivate their audiences and bring traditional stories to life. Arabic storytellers typically have a deep understanding of the cultural and historical context of the stories they tell, and they are skilled at engaging and entertaining audiences of all ages. Whether you want to learn more about the rich history of Arab culture or simply enjoy an entertaining performance, Arabic storytelling services offer a unique and unforgettable experience.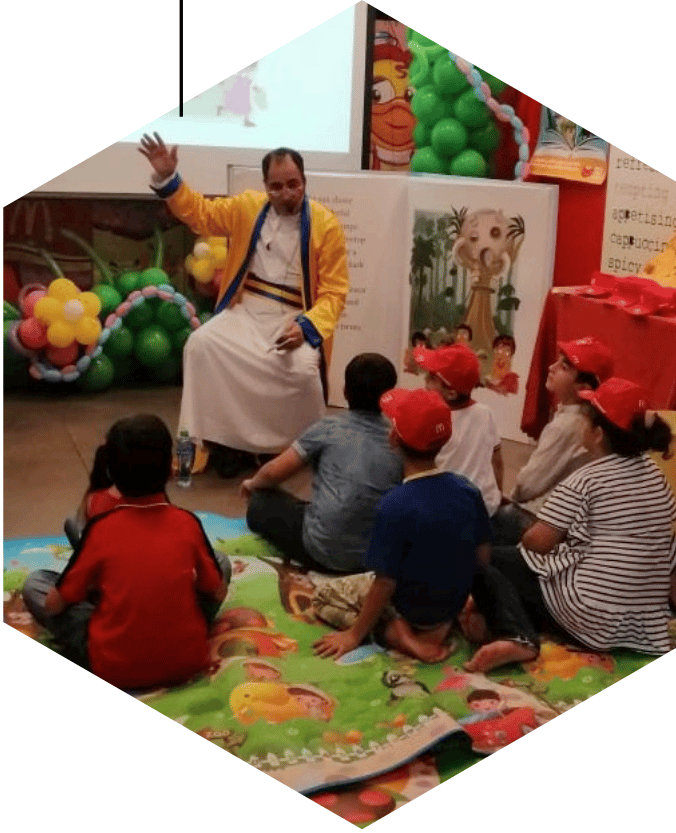 Date Expert
Dates are a highly nutritious food in the UAE that already carried the Bedouins long ways through the Arabian desert. Nowadays the date resembles a sign of Emirati hospitality as it will always be offered along with coffee when entering an Emirati home.
There are so many different kinds of dates. Selected types will be explained through the date expert.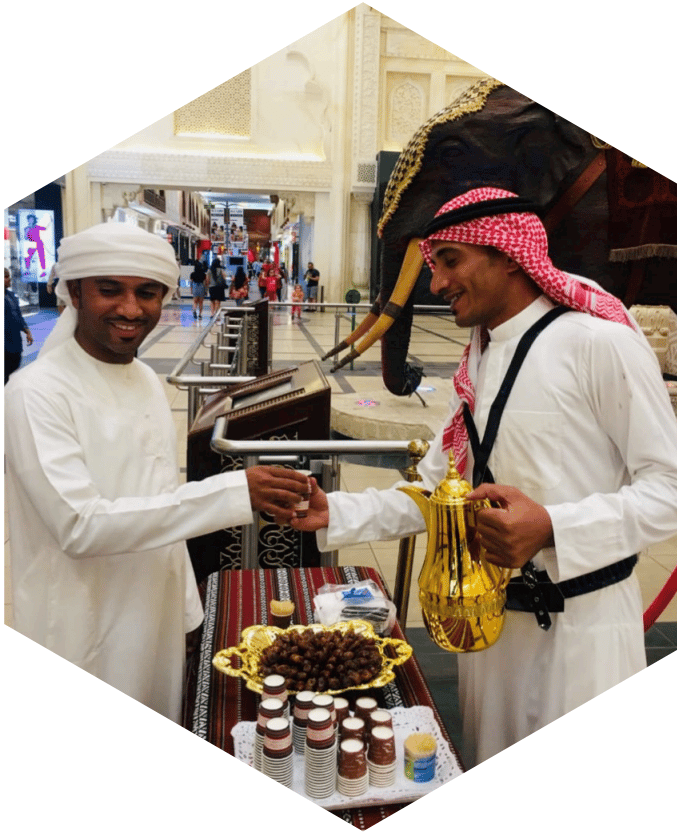 Calligrapher
Arabic calligraphy is an ancient art form that has evolved over thousands of years, and it continues to be a highly respected and revered tradition. Arabic calligraphy service providers offer a range of services that include creating custom calligraphy pieces for weddings, events, corporate branding, and personal gifts. They use a variety of traditional calligraphy tools, such as the qalam and ink, to create stunning works of art that reflect the beauty and complexity of the Arabic language. Arabic calligraphy service providers typically have a deep understanding of the history and cultural significance of the art form, and they are passionate about preserving its rich legacy for future generations.